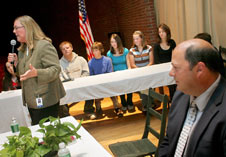 Students question mayoral candidates



Six eighth-graders, reading questions they and their classmates submitted this week, questioned James Destino and Carolyn Kirk, the two finalists for mayor, yesterday at O'Maley Middle School. Most of the questions revolved around school issues with a couple about energy conservation and infrastructure tossed in.
Kirk, Destino appeal for votes one more time



In their last joint appeal for votes, the mayoral contestants last night reprised the approaches they've offered to lift the city, with James Destino pledging himself ready to act and Carolyn Kirk pledging planning.

"I know what needs to be done," said Destino, the council president, with what he called "unmatched knowledge of the city budget." He added for emphasis, "My opponent has a plan to have a plan."

Destino told a sparse audience in the high school auditorium that the centerpiece of the city's revival was the waterfront.
Fire stations, market, duplexes are top issues



Experience and persistence are skills the incumbent Ward 5 councilor says he brings to the table, while the challenger for his seat said West Gloucester residents need a councilor who will restore their faith in city government.

Councilor Walter Peckham points to his two years on the council, saying he pushed to have the outlying fire stations open full time following the death of a Lanesville woman in her home last year and is working with the Magnolia Neighborhood Association to monitor a development on a 50-acre plot off Magnolia Avenue.
Ward 3 candidates focus on education, waterfront



Both candidates for the open Ward 3 City Council seat say the top issues are overseeing a consolidation of the city's education program and development of the waterfront.

While neither of those issues affect Ward 3 more than other parts of the city, a third issue | oversight of the combined sewer overflow project | is more parochial. But both candidates Steven Curcuru and James "Mike" Mulcahey say the project, which has focused mainly on lower Washington Street and lower Middle Street, both in Ward 3, is nearly complete and will be moving to other parts of the city.