George Hackford harkens to a day in May, when he and between 10 and 15 other people gathered around a table at Addison Gilbert Hospital in Gloucester and heard police Chief Leonard Campanello outline his vision for a new approach to tackling the opioid crisis.
The Gloucester program would offer addicts who would come to the police station, admit they needed help, and turn over any drugs or paraphernalia the chance to do so without facing arrest, and with the promise that police would help them get the treatment they needed.
But the chief was also seeking people who would serve as volunteer "angels" to those addicts, meeting them and helping them through the intake process to enter a detox or treatment program.
"I thought it was not only innovative, but radical," recalled Hackford, a 58-year-old native of England who came to Gloucester with his wife, Chantal, in September 2014. "I knew as soon as I heard about it that it would take off."
It has.
Hackford, who greeted the first patient to seek help through the Gloucester program, has now served as an angel to 26 addicts.
He has watched the program grow and evolve over its first six months — and the more he sees, the more he's convinced it provides the right approach to dealing with those caught in the clutches of addiction to heroin or other opiates. He remembers one young woman who came in, handed him her needles and heroin, and, with a look of exhaustion, said, "Take them — that's it, I can't do it anymore."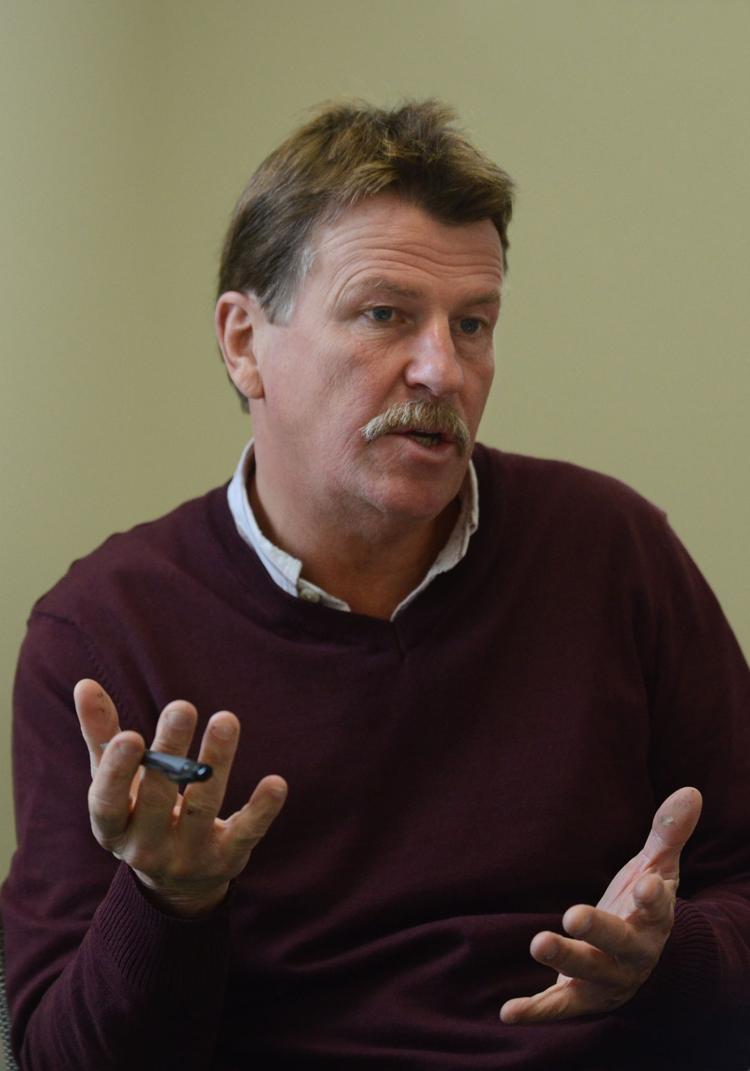 As he spoke to the woman, Hackford, who oversees partnership development for the nonprofit Ocean Alliance, learned she had been born an addict.
"She told me, 'Growing up, needles were as normal to me as Teddy bears were to you,'" he said. "I don't think I'll ever forget that comment — that image. Now, imagine criminalizing a girl like that. She hadn't gone off the rails or anything like that of her own making. She had just been brought up with it."
Hackford's first response came a little more than a day into the program. In the early morning hours of June 2, he got a call to come to Addison Gilbert Hospital.
For the next 11 hours, Hackford sat with and extended support to a man from outside the city who had gone to the Gloucester police station seeking help. From there, he was transported to the hospital.
"Part of the reason that took so long was that no one knew the program, and the providers weren't used to getting calls from the police station saying we wanted to get someone right in," Hackford said.
Now, he said, the program's intake can be completed in as little as 15 minutes. Angels like himself meet an addict at the police station and speak with him or her. Then, they start contacting any number of programs or treatment centers that have now partnered with the Gloucester Police Department and the Police Assisted Addiction Recovery Initiative — or PAARI — the project that provides financial support for the Gloucester program. PAARI also links to centers that now span from Massachusetts to Florida and California.
"Now, they know who we are, they know why we're calling, and they're ready to work with us," he said of the centers and providers. "As this has gone on, it's become a real network for offering help and treatment to these people. And it's become much more efficient than it was at the start, even that short time ago."
Once admitted to the program at the station, the addict is then often transported by Beauport Ambulance, which has waived up to 95 percent of its fees to help the program, Campanello has said. Any added transportation costs are covered by the Gloucester Police Department or PAARI.
Hackford noted that transporting an individual to the closest available center isn't always the best tactic.
"A lot of times, it's also best if the treatment center isn't right in the same community where the person lives. It's better to get them some distance away," he said. "That way, they don't have their same friends from their old environment trying to come visit. And when they do come out, they're not instantly right back in the same environment they had just left to try to get well."
Hackford said he has not had much correspondence with those he helped.
The addicts who come through the program aren't given the names or contact information for any angels — only the number of Gloucester police Lt. David Quinn. He helps coordinate the program and the transition when an addict comes out of detox and needs a placement for treatment.
The first patient Hackford met with learned his name through media coverage of the program's launch, contacted him in late July, and said he had been clean for 40 days. Hackford has not heard from him since.
Hackford currently is working on a handbook of sorts for "angels" who might take on similar roles with other departments and other agencies, as the Gloucester initiative continues to serve as a model for similar programs around the country.
"The chief was right when he said we could not arrest our way out of this crisis," Hackford said. "And there are so many benefits to this.
"For one thing, it offers a fast track to recovery. For another, it brings about an absolute catharsis for the addict. When you have someone saying, 'That's it, folks, I'm done'; when you have someone come in to hand over their needles and their drugs, that shows the person has taken on a transformation right from the start.
"Then, it has also built a real trust between the addiction community and the police," he added. "That has to help society, too, and I'm glad to share in a small part of it."
Staff writer Ray Lamont can be reached at 978-675-2705, or via email at rlamont@gloucestertimes.com.