BEVERLY — Call it the strange case of Jekyll and Shoebert.
Officials from Mystic Aquarium in Connecticut said Friday that Shoebert, a seal that earned celebrity status with his weeklong stay in Shoe Pond in Beverly, is the same seal that was sent to the aquarium four years ago.
"His name used to be Jekyll," said Sarah Callan, manager of the animal rescue program at Mystic Aquarium. "We're going to call him Shoebert Jekyll. We don't want to upset the town of Beverly."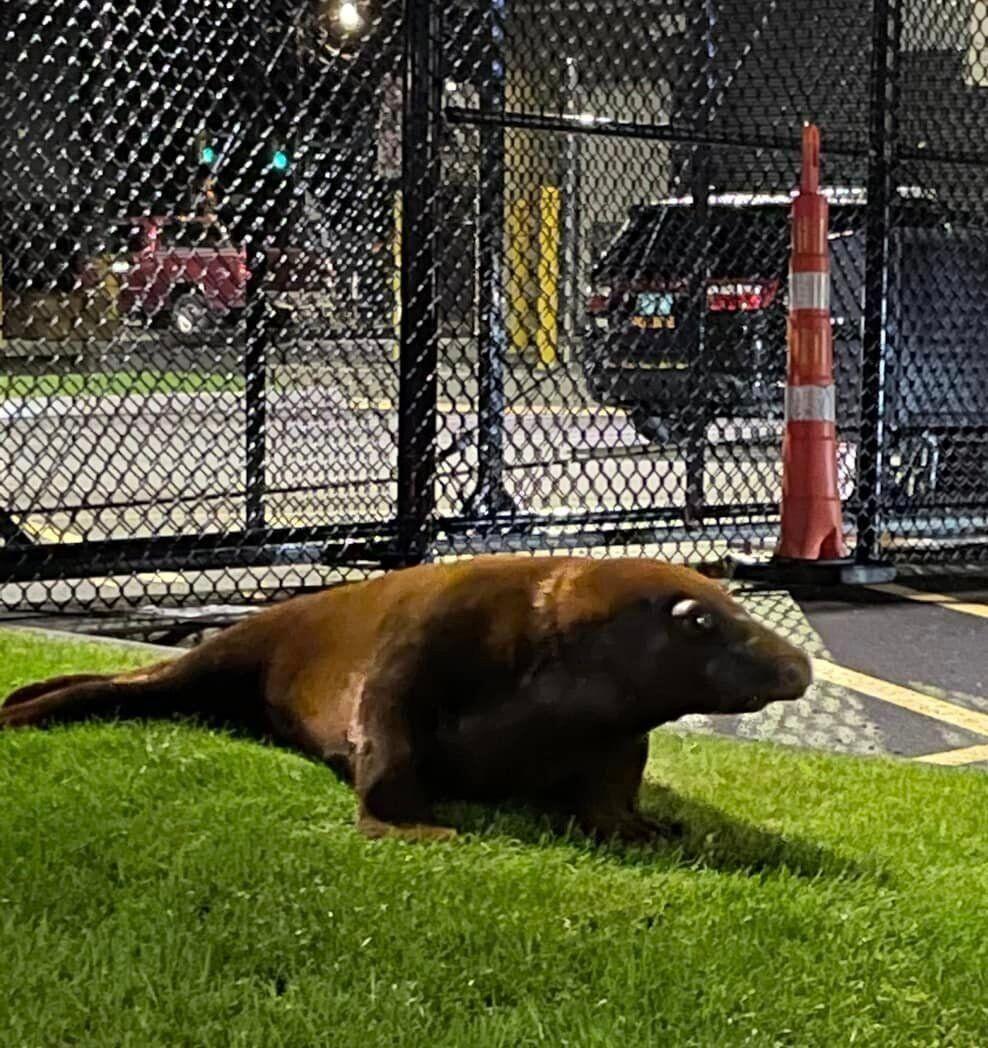 Shoebert found himself back at the aquarium for a second time Friday after walking, or waddling, out of Shoe Pond and through the Cummings Center parking lot to the Beverly police station in the middle of the night. He was eventually packed into a crate and taken to Mystic Aquarium, where Callan said he appeared to be healthy and in good shape.
"He's acting like a very normal, feisty, 4-year-old male," she said.
Callan said staff who had been tracking Shoebert in Shoe Pond eventually noticed a yellow tag on his right rear flipper, between two of his toes. The tag number matched files that showed Shoebert was the same seal found in Barnstable on April 9, 2018, and picked up by members of the International Fund for Animal Welfare.
The young pup had a severe wound across his face and was taken to Mystic, where volunteers nicknamed him Jekyll. Veterinarians discovered he also had a bone infection, forcing them to amputate one of the digits behind his left hind flipper.
Jekyll spent four months recuperating at the aquarium before he was released back to the ocean in Rhode Island. The next anyone heard of him was when he appeared in Shoe Pond in Beverly — and became Shoebert.
"We'd love to know what he was up to the last couple of years," Callan said.
Shoebert became a local celebrity at the Shoe Pond, earning his nickname, drawing crowds and inspiring local businesses to make Shoebert T-shirts and sugar cookies. He was safe in the pond and had plenty of fish to eat, but officials knew he couldn't live in the fresh water forever and they would eventually have to get him out.
Rescuers spent most of the day Thursday trying to capture Shoebert with nets, unsuccessfully, only to get a call at 2:30 in the morning Friday that he had arrived at the police station.
Callan said seals can cover long distances on land and climb over rocks. Still, she said, "The fact that he made it to the police station, what he had to cross, it's pretty remarkable that he made it there."
Ainsley Smith, regional marine mammal stranding coordinator for NOAA Fisheries in Gloucester, said she got a call from Beverly Animal Control Officer Matt Lipinski around 3 a.m. saying that Shoebert had shown up at the police station. When Smith and a co-worker arrived, officers were using plastic tables to block Shoebert from leaving the parking lot.
"They were very resourceful," Smith said.
Two team members from the International Animal Welfare Fund also arrived on the scene to help, as did staff from the Mystic Aquarium, who had stayed overnight after spending Thursday trying to capture Shoebert. They all managed to load Shoebert into a crate and into a truck to take to Mystic Aquarium.
"Despite the time, I think this was the best possible solution to have a safe and quiet environment to do all the handling," Smith said.
Callan said veterinarians at the aquarium gave Shoebert a complete exam, including blood work and radiographs, to make sure he didn't ingest anything bad when he was in Shoe Pond. Once the blood work is complete and Shoebert is given a clean bill of health, which could have been as soon as this weekend, he'll be released back to the ocean.
"Far from the (Shoe) pond," Callan said.
Paul Leighton can be reached at 978-338-2535, pleighton@gloucestertimes.com, or on Twitter at @heardinbeverly.