Statistically, Georgetown's Jack Lucido is having one of the greatest seasons for a wide receiver in Massachusetts state history.
Yeah, he's already well surpassed the area records.
We're on to the state now.
Through nine games this fall, the 6-foot-1, 190-pound wideout has hauled in 76 passes for 1,363 yards and 11 touchdowns. He broke the Daily News area record not that long ago when he past friend and former Georgetown teammate Hunter Lane, a current tight end at Holy Cross who had 1,183 receiving yards on 61 catches with 15 touchdowns his junior year in 2017.
With still one game left, as Georgetown is set to travel to annual rival Manchester Essex Thanksgiving morning, it's pretty safe to say that Lucido didn't just break the area record, he shattered it.
"Now I'm in the conversation with Hunter Lane, and that's pretty cool," said Lucido, who made it an even more memorable fall season when he committed to Wesleyan University about a month ago. "I've always looked up to him, and I've been close with him, so being in that conversation is really an honor.
"He jokes with me and texts me like, 'Make sure you don't break my record tonight,' so it's pretty funny. But he reached out after the Lynnfield game and he was like, 'I wouldn't want anyone else to break the record,' so it was cool that he said that. It meant a lot."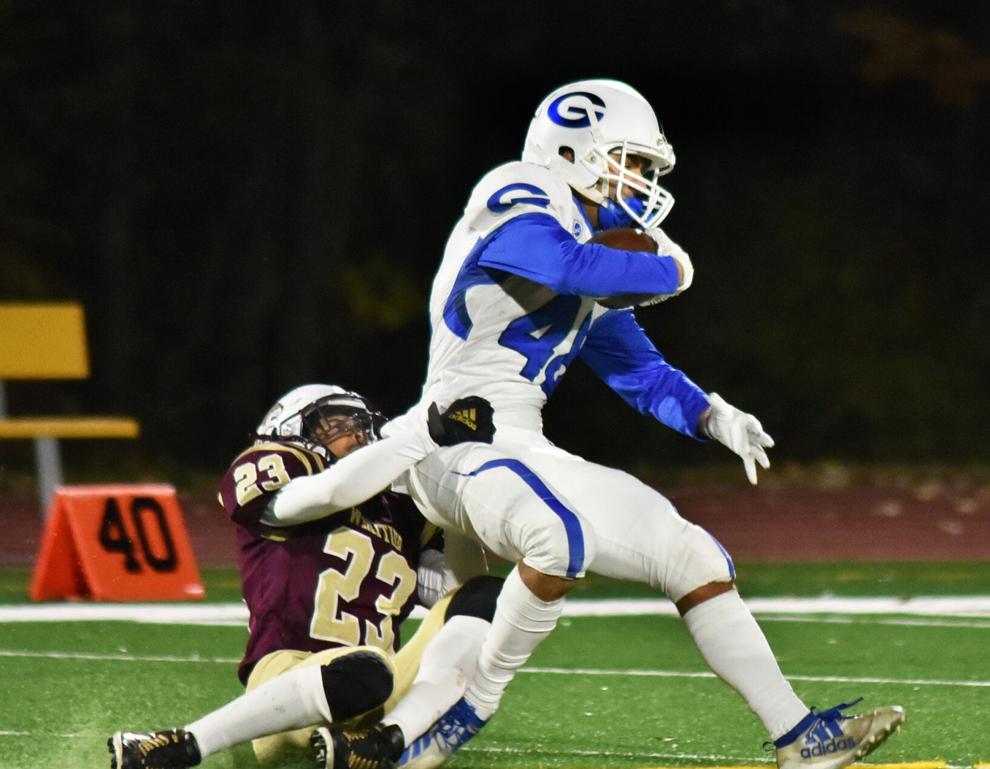 Lane's season was historic for the area.
Lucido's is nearing historic for the entire state.
While the MIAA is, lets say, spotty at best with state records, you can still piece together that Lucido's season has been one of the best ever. As far as this, 2021 fall season goes, MaxPreps has Andover's Lincoln Beal as the state's closest receiver to Lucido with 946 yards. Now, of course, accuracy concerns are always a factor, and many teams may miss reporting a score or not report any scores for their season entirely — so take that "fact" with a grain of salt.
Better metrics are available.
For example, going through the year-by-year Boston Herald All-Scholastic teams, only two receivers since 2006 have finished with more receiving yards than Lucido currently has — Anthony Denitto of Newton South in 2015 (1,517) and Chris Malonis of Dracut in 2010 (1,560). There is, of course, the chance that someone had more receiving yards but didn't make the All-Scholastic team — or their school/coach didn't report anything — which seems rather unlikely. And the stats do get harder to track down the farther back you go.
But with how run-heavy the game was — especially at the high school level — prior to the new millenium, it's rather safe to say that not many more — if any at all — have reached the 1,500 receiving yard plateau.
"I set a goal for myself saying that I wanted to get 1,500 yards, 15 touchdowns, kind of not really thinking that it was an area record or anything," said Lucido. "But as the season went on, I heard rumors that I was getting close to it, so I just thought that I might as well keep going."
Perhaps the most incredible part of this story is that Lucido lost a game when Mystic Valley — which Georgetown had scheduled — dropped its program just before the season.
Lucido still has Thanksgiving to break the 1,500 mark, but he could have, and should have, had one more game.
"He's worked incredibly hard to be where he's at," said Georgetown coach Eric McCarthy. "And he's not just a football player. He's an incredibly smart kid who works just as hard in the classroom.
"He's going to a NESCAC school for a reason."
Again, MaxPreps certainly isn't the end-all-be-all for stats, but there is still information to be had. Currently, the site lists Rabun County's (Tiger, Georgia) Jaden Gibson as the country's leading receiver with 1,816 yards in 12 games played. Breaking it down by receiving yards per game, however — which could be a better indication — Lucido's 151.4 rank him fourth out of the top-50 yardage leaders listed.
If there is one thing to take away from all of this, it's that Lucido's season has been far from ordinary.
And the highlights were well-documented.
There was the 14-catch, 305-yard game against Lynn Tech, which was then followed two weeks later when he had 16 catches for 213 yards against Nashoba Tech. In the Royals' last game against Lynnfield, needing just 7 yards to break Lane's record, he hauled in 13 passes for 187 yards and a TD.
Now, on Thanksgiving Day, he needs 137 yards to reach 1,500, and 198 to pass the mark set by Dracut's Malonis a little over a decade ago. And he gets to try and do it for a Georgetown (3-6) team that's attepmting to beat Manchester Essex (7-2) for the first time since 2016.
"We just have to put everything together," said Lucido. "We need to go out with a bang. I have one more game left in my high school career, so we just have to go out and play like we can and I think we can get a win."
Lucido, of course, made sure to give ample credit to his quarterback, Anthony Plumb, who has already broken the area passing record with 2,700 yards exactly and 26 TDs.
"He's a beast," said Lucido. "I've been working with him since freshman year. He's a stud, he's got a great arm and he's just gotten better all season. I owe it all to him."
But Lucido's season has already been nothing but historic as well.
And the legend can only grow come Thanksgiving.