WEST NEWBURY — There was one word that kept coming up when Pentucket coach Daniel Millard was asked about sophomore Jamie Dahlgard's opening goal on Wednesday.
"That was unstoppable!" said Millard. "She's got that in her pocket. We want to see more of that from Jamie. I mean, that was just a great hit, that was unstoppable.
"She hit that better than I ever could when I was younger!"
Off a corner during Wednesday's game against Amesbury, Dahlgard and junior Grace Pherson did a nifty give-and-go play that got the ball on the sophomore's right foot with a bit of space. From about 25 yards out, Dahlgard uncorked a beautiful ball that sailed just under the upright, giving no chance whatsoever for the goalie to make a save.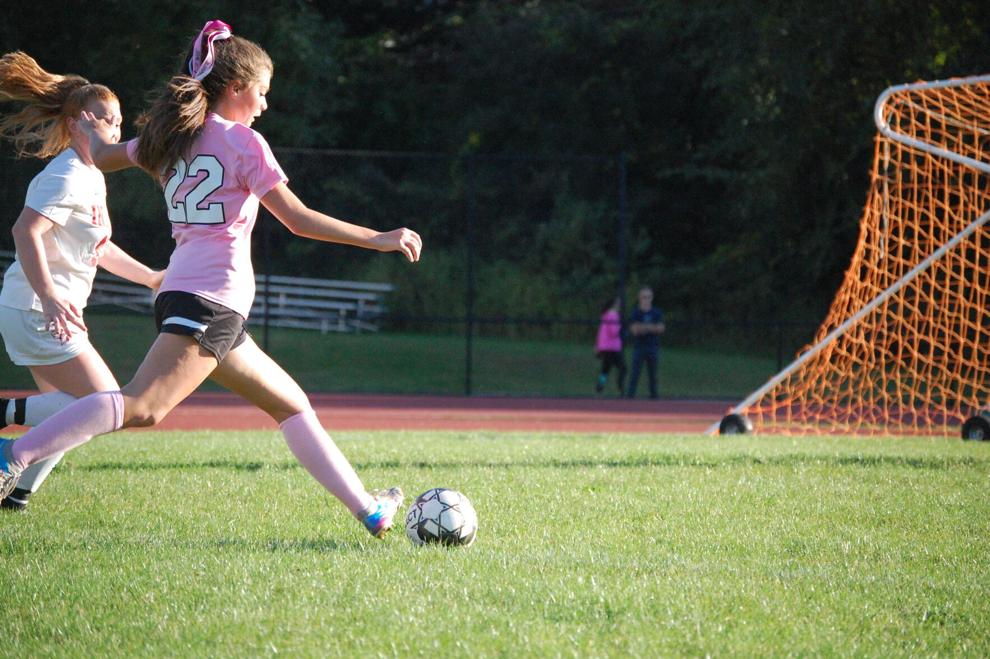 Pentucket used that tally, along with another goal from potent goal-scorer Mollie Cahalane minutes later, to cruise to a 2-0 shutout home win over Amesbury.
Since switching to its pink jerseys at the beginning of October to support cancer awareness, Pentucket (7-2-1) hasn't lost yet.
"We were working on that corner play in practice and it actually happened in a game," said Dahlgard. "This team, we're all super close, so it's really easy to play together." 
The win was a huge one, as Pentucket is locked in a heated battle with Newburyport, North Reading and Lynnfield for the Cape Ann League Kinney Division. All four teams are within a point of each other in the league standings, and are poised to be going neck-and-neck all the way until the state tournament -- which they should all make.
"Each game is very important," said Millard. "Every game kind of feels like a cup final for each team. There are no easy teams in the CAL."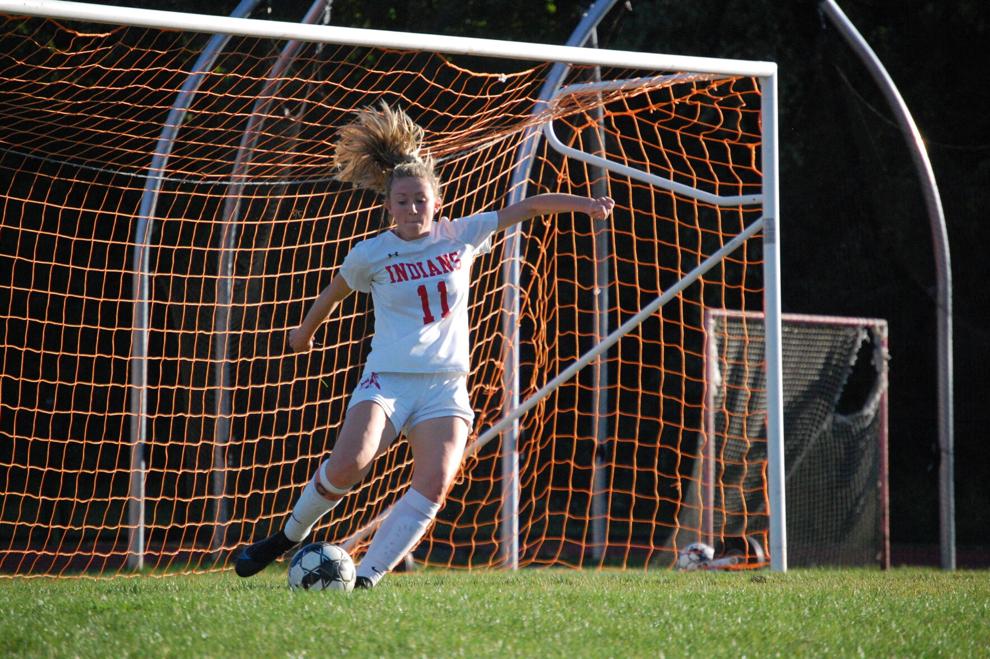 That sentiment was certainly true on Wednesday, as Pentucket had no easy time trying to take down Amesbury (4-6-0). 
The Indians got solid play from McKenna and Avery Hallinan, midfielder Stella Mitchell and defenseman Chloe Martin, and goalie Zena Fitzgerald was peppered all game and made 18 saves. But the group couldn't find the back of the net.
And after Dahlgard's goal, Pentucket made it 2-0 just moments later on a nice two-man game from Cahalane and Sabrina Campbell. Pentucket's two top scorers, Campbell sent a pass that Cahalane was able to control and fire on goal.
Unfortunately for Amesbury, Cahalane's shot took an awkward bounce on its way home and found the back of the net.
"I got the ball and I saw Sabs (Campbell) open so I played her in," said Cahalane, whose scored her seventh goal of the season. "And then my man went to the ball, I went wide and Sabs saw me and played it back and I just volleyed it in.
"We want the CAL really bad. We know last year we did really well, and we know what this team is capable of."
Pentucket will have a game under the lights at Rockport on Friday at 6 p.m., while Amesbury travels to play Lynnfield on Friday for the typical 3:45 p.m. start time.
"We lost a lot of seniors last year, but we have a really nice balance," said Millard. "I think we have some great players on the team, and it's more than just one player. We have some game-changers, and when the team is jelling, and we're functioning as a team, we're pretty good."
---
Pentucket 2, Amesbury 0
Goals: Jamie Dahlgard, Mollie Cahalane
Assists: Grace Pherson, Sabrina Campbell
Saves: P — Emma Breen 5; A — Zena Fitzgerald 18
Amesbury (4-6): 0 0 — 0
Pentucket (7-2-1): 2 0 — 2