Thanksgiving football in the Greater Newburyport area is a tradition unlike any other. There are, quite simply, not too many rivalies that go back over 100 years like Newburyport and Amesbury do.
That's why last year left such a crater-like hole in the hearts of so many.
With all of last fall's annual holiday games cancelled due to the pandemic, the excitment for this Thursday's slate of games returning is through the roof. Expect packed houses, and plenty of smiles, as one of the country's greatest traditions returns to our lives.
Thanksgiving high school football is back!
As a primer for the day to come, here are some nuggets on what you can expect from what will be a memorable few hours on the local gridirons.
The Basics/Schedule
Newburyport (4-6) at Amesbury (7-2), 10 a.m. (Landry Memorial Stadium).
Georgetown (3-6) at Manchester Essex (7-2), 10 a.m.
Pentucket (8-3) at Triton (4-5), 10 a.m.
Weather Looks Good!
Thursday's forecast looks to be partly cloudy in the morning with temps climbing into the low and possibly mid-50s.
A perfect day for football!
It'll be a far cry from the brutally cold 2018 Thanksgiving Day games that had "ice covering the bleachers" at Haverhill's Trinity Stadium for the Pentucket-Triton game and snow littering Landry Memorial Stadium for Newburyport-Amesbury.
Last Time ...
Thanksgiving in 2019 — the last time the holiday games were played — went something like this:
Amesbury at Newburyport: Trailing 14-0 after the first quarter and 14-6 at halftime, Jacob Buontempo (16-150) and Trevor Ward (12-109) ran wild in the second half to lead the Clippers to a 34-20 comeback win. Sophomore QB Finn Sullivan threw for 134 yards on 9 of 16 passing for the Clippers, with Walker Bartkiewicz hauling in four of those passes for 64 yards, two TDs and a 2-point conversion. Troy Hamel's 1-yard TD run on the first play of the fourth quarter brought Amesbury to within a point (21-20), but the Clippers responded on their next drive with a Buontempo 35-yard TD scamper.
Pentucket at Triton: Quarterback Peter Cleary completed 10 of 17 passes for 228 yards and threw touchdown passes to Keegan O'Keefe and Jake Etter, as Pentucket rolled to a 34-7 win. Ryan Kiley ran for two fourth-quarter touchdowns for the Green and White, as Ethan Trembley scored Triton's only TD on an 11-yard run in second quarter of a game that was only 13-7 at halftime.
Georgetown at Manchester Essex: Both Chris Guyer and Jared Graf ran for a team-high 56 yards, but the Royals fell 28-12. Graf opened the scoring with a 2-yard TD run in the first quarter before Manchester responded with 21-straight points heading into the halftime break. Graf added his second TD run of the day in the third quarter to make it 21-12, but the Royals weren't able to get any closer than that.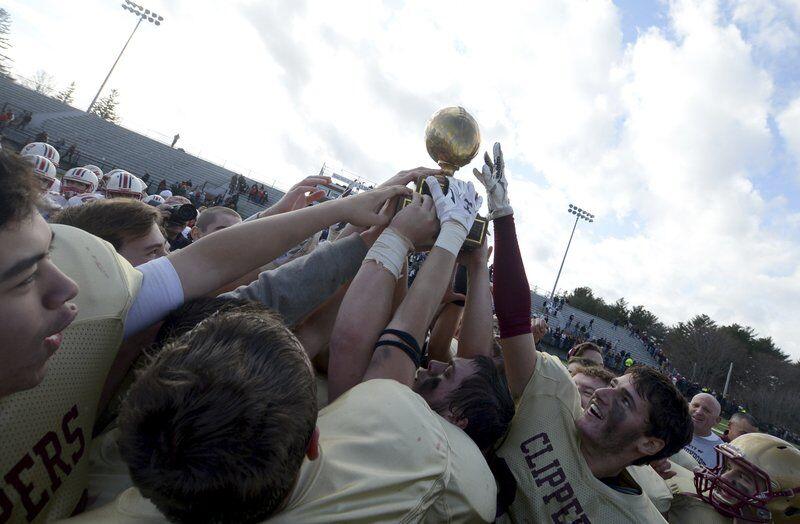 Five Years Ago ...
Newburyport at Amesbury: In 2016, sophomore quarterback Blake Bennett connected with Kyle Martin for a 49-yard catch and run before senior Zach Prentiss rushed in the two-point conversion to put Amesbury up 22-17 with just under three minute left. The Clippers got the ball back two more times, but sophomore safety Logan Burrill twice high-pointed the football for two big interceptions to clinch the victory for the Indians. For the 18 seniors on that 2016 Amesbury roster, it was their first ever win over Newburyport on Thanksgiving, breaking a 3-year Clipper winning streak.
Pentucket at Triton: In 2016, Triton snapped a six-game losing skid to Pentucket behind a memorable Thanksgiving Day game from Liam Spillane. The senior carried the rock 29 times for 220 yards and four TDs to lead his Vikings to a 33-18 win. Consecutive Pentucket touchdowns from Robert Porter (51 pass from Finn Graham) and Liam Sheehy (3 run) in the fourth quarter made it a 20-18 game. But Spillane responded with his fourth TD to ice it.
Georgetown at Manchester: In 2016, Behind a strong day on the ground from Mark Mansfield (18-99, 2 TDs), the Royals dominated their way to a 35-0 win. Anthony D'Amato, Cam Barnard and Jim Sherman accounted for the other TDs for the Royals, who captured the Eric Dimao/Fran York Trophy to finish their season 6-4. Georgetown hasn't beaten Manchester Essex since this game.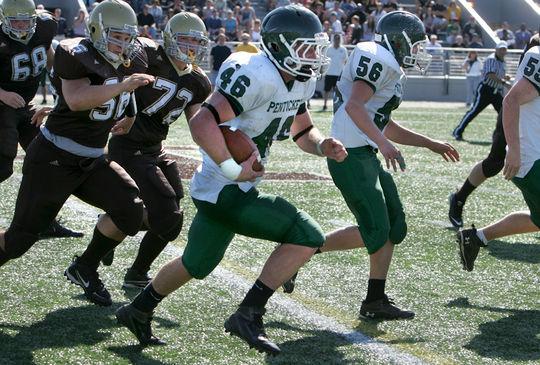 10 Years Ago ...
Newburyport at Amesbury: In 2011, Newburyport rolled to a 24-6 Thanksgiving Day victory for its third straight dominating holiday win over its rival. Over those three straight wins from 2009-11, the Clippers outscored the Indians 83-6.
Pentucket at Triton: In 2011, Triton's Derek Paquette rushed in his third TD of the game with 1:54 left, but Pentucket's Nolan Dragon stuffed the 2-point try to all but clinch the Green and White's dramatic 30-28 win. Dragon rushed for 140 yards and three TDs of his own while also being the hero on defense.
Manchester Essex at Georgetown: In 2011, Georgetown led 7-6 at halftime before a strong second-half surge lifted the Hornets to a 28-7 win. Tyler Wade scored the Royals' lone TD on a 1-yard run in the first quarter.