One of the pleasures of a leisurely road trip away from interstates and through rural America is the time it allows to explore roadside attractions.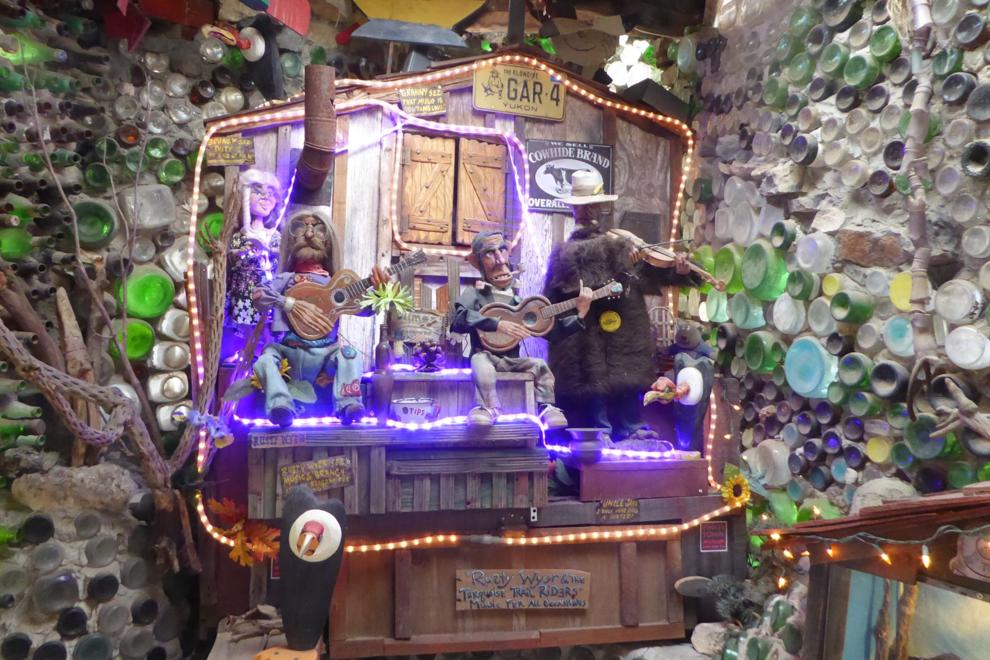 Some attractions are fun, some are educational, some are bizarre and some are all of the above.  
During a recent drive along Route 66 across New Mexico, we came across an attraction outside Albuquerque that offers a little education, but is mostly fun and certainly bizarre.  
Described by "Road Trip USA" as "the most endearing of all wacky roadside Americana ... like an old-fashioned penny arcade run riot," it is exactly the sort of place we enjoy.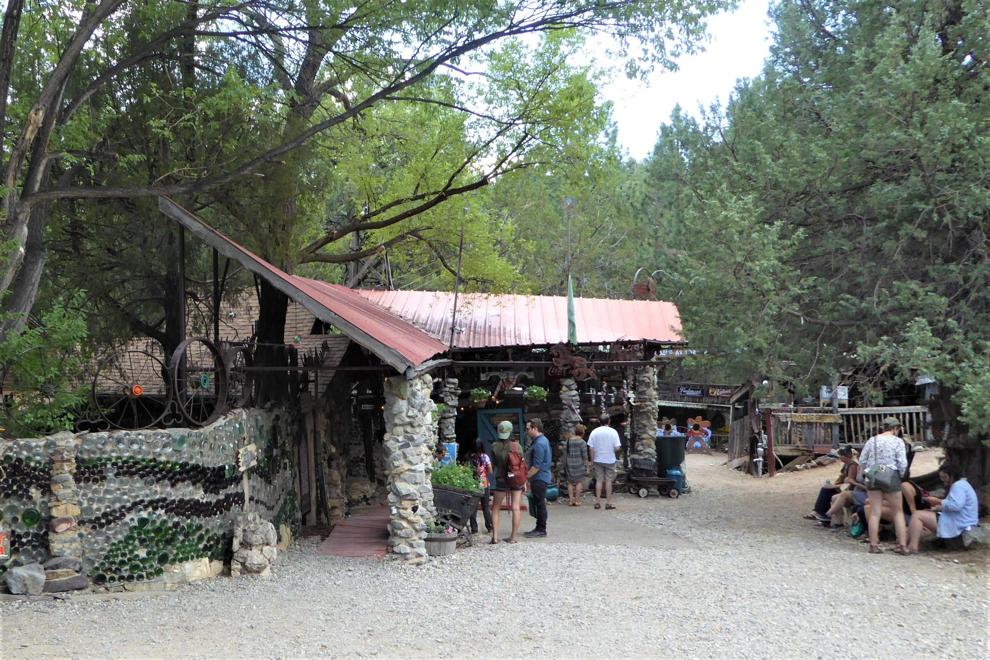 The "wacky" place, Tinkertown Museum, represents the culmination of more than four decades of miniature carvings and collections by South Dakota native Ross Ward, who, as a young child, fell in love with the Old West.  
Ward began carving miniature figures in his teens, a practice that continued throughout his life.
The artist enjoyed travel and spent time painting signs, murals and rides for carnivals across the U.S. and a few foreign countries.  
During these travels, he gained an appreciation for roadside attractions. 
All the while he continued his carving and construction of a miniature western town.  
After marrying in the early '60s, he installed his Western town in a trailer and toured two years on the carnival circuit while displaying his carvings and continuing to paint.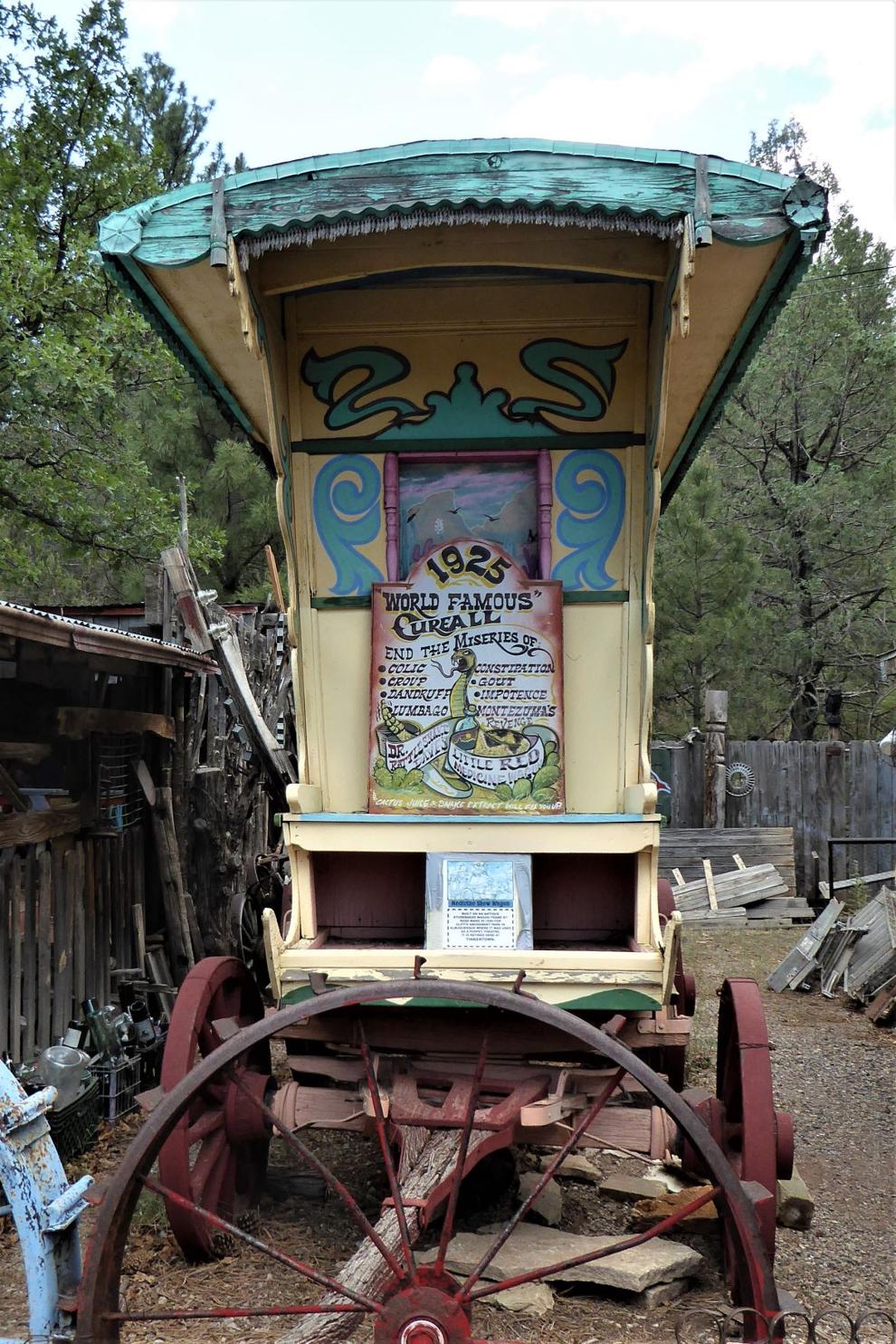 Settling near Albuquerque in the late 1960s, Ward began collecting roadside bottles he used for construction of a fence on his property.  
Second wife Carla helped build the walls that included more than 50,000 colorful bottles plus tons of rock and cement.
All this eventually grew into a 22-room building that houses Ross' massive assemblage. The complex opened in 1983 as Tinkertown Museum.
Arriving on a Saturday morning in July, we met Carla and stepdaughter Tanya Ward Goodman, who were greeting arriving patrons. 
Tanya and her son and daughter were helping with the museum during a summer visit. She said as a young girl she would sometimes accompany her father during his travels with the carnivals.  
When painting horses on merry-go-rounds, he would pay her 10 cents for each hoof she painted.
Carla held out a quarter to feed the first exhibit that greeted us with lights, music and a trio of carved figures playing instruments. Another carved figure standing behind a window opened and closed shutters. This was a small taste of what was to come.
The next room held Ross Ward's gem: a 60-foot-long miniature Western town with several buildings that included a general store, hotel, saloon and blacksmith barn.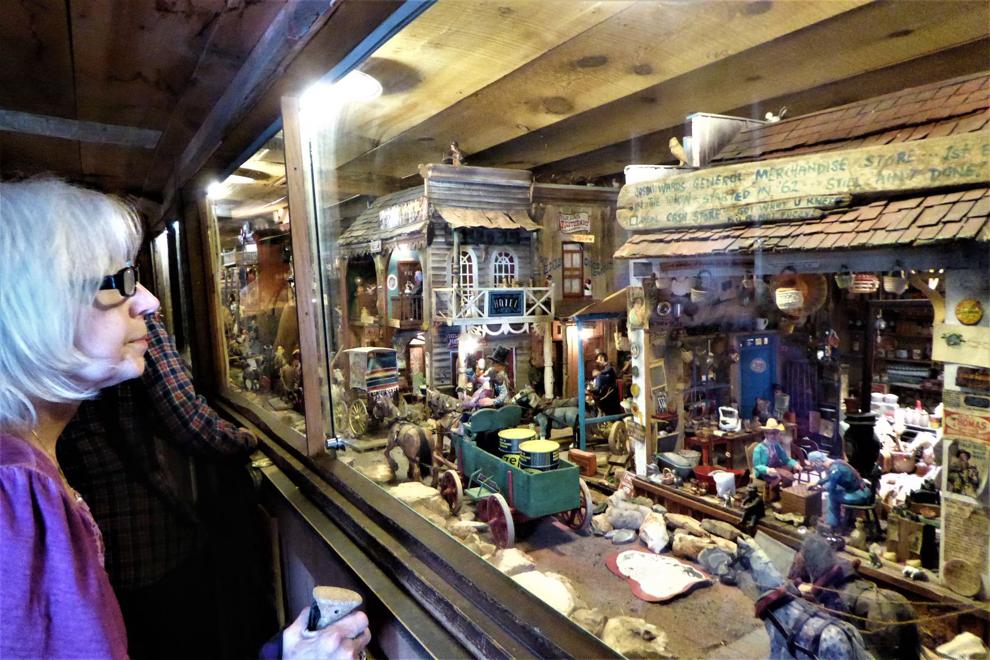 The town is populated with hundreds of carved figures, some of which move at the push of a button. A small sign near a little girl jumping rope states "Emily has been jumping rope for 45 years." 
The characters and objects are so detailed and interesting we nearly missed seeing antique tools, knives and other objects on the wall behind us. 
No wall space seemed uncovered. Objects hang from the ceiling with more stationed outside. Collections include antique toys, dolls, horseshoes, wedding cake couples, cast-iron cobbler's shoe forms, bicycle and wagon wheels and more.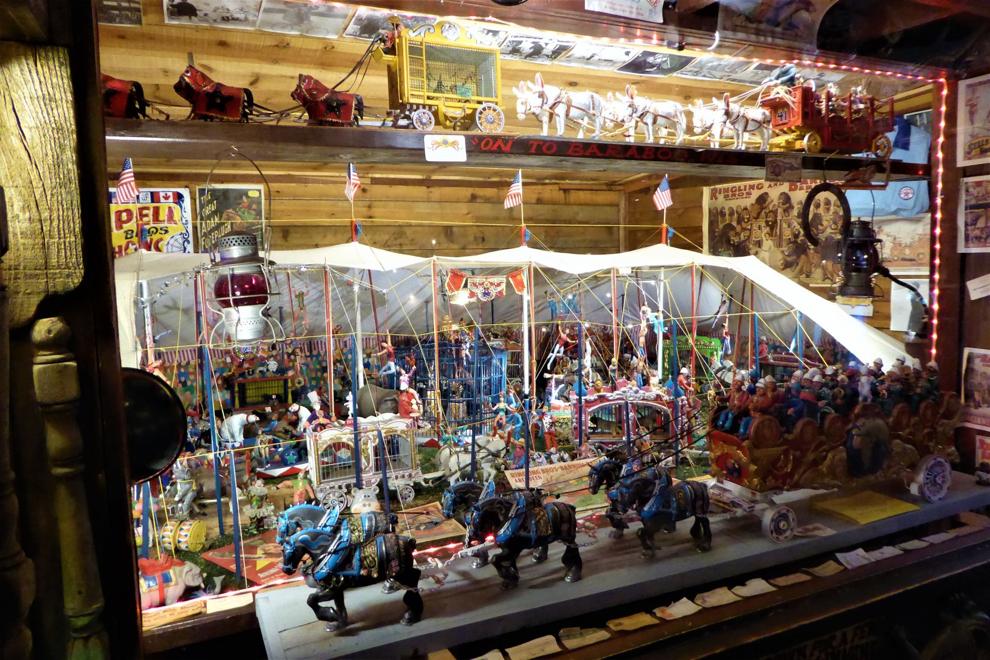 A large circus exhibit is filled with miniature carved figures dressed in colorful outfits. As with the Western town, some figures, including a trapeze artist, move. Circus memorabilia fill the room.
Down a hallway and over a bridge is a 35-foot sailboat that had belonged to Carla's brother, Fritz Damler.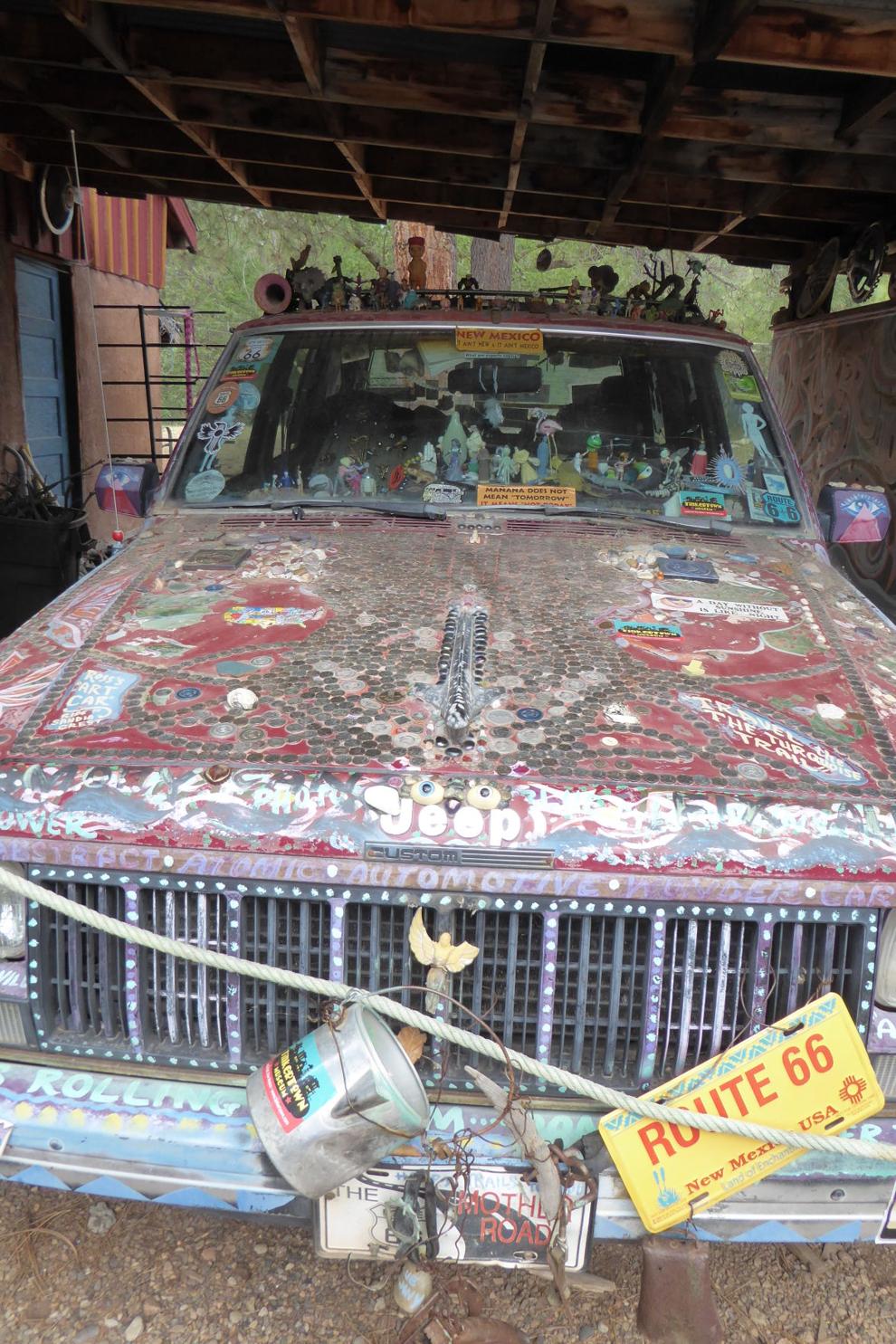 Fritz decided one day to quit his day job and sail around the world.  He purchased the 1936 wooden cutter now on display and sailed from 1981 to 1991. 
A large world map tracks the 80,000-mile trip with several interesting comments at different points of the journey.  
At Panama, he noted, "First wife returns home." Then at Turkey, "Met second wife."  
Unsuccessful in selling the boat at journey's end, he offered it to Ross and Carla who thought it would make a great Tinkertown exhibit.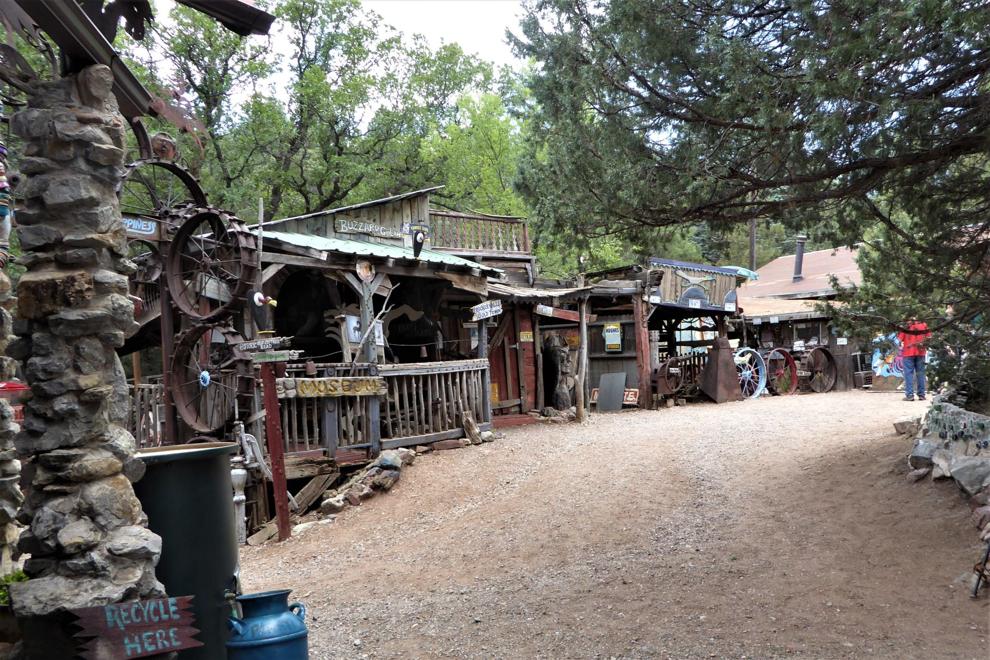 These are a few of the highlights we enjoyed during more than an hour exploring the museum and grounds called Buzzard Gulch. 
Carla mentioned the museum was modeled on Wisconsin's House on the Rock, a place we visited last year. 
Tinkertown is on a much smaller scale, but the concept is similar. It is difficult to explain; you have to see it for yourself.
Ross Ward was diagnosed with Alzheimer's in 1998 at the age of 57 and died in 2002. 
Evidence of his talent and love lives on at Tinkertown Museum.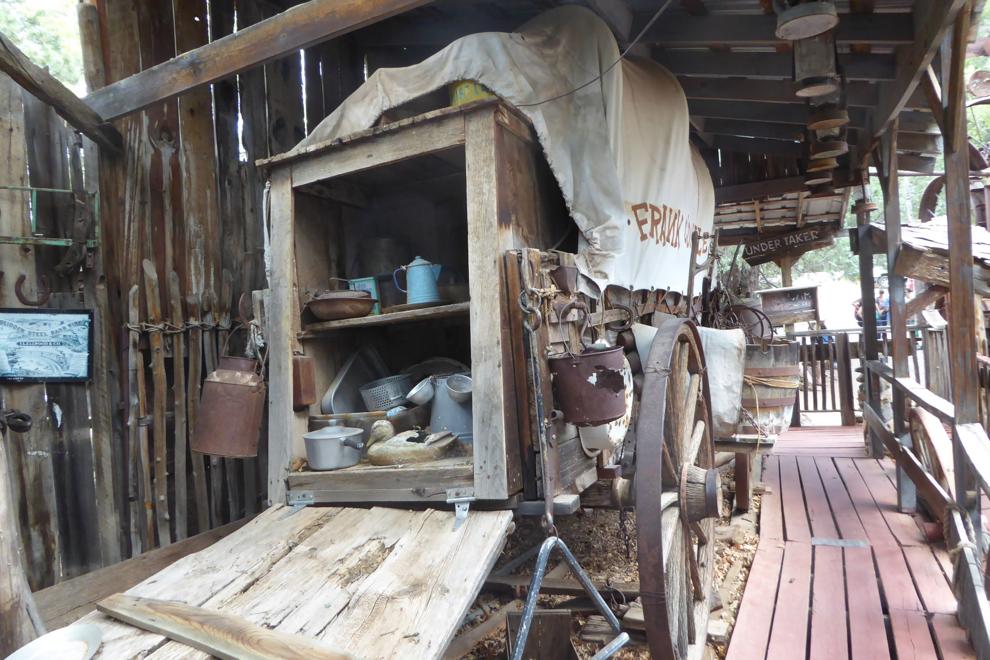 Kay and David Scott are authors of "Complete Guide to the National Park Lodges" (Globe Pequot).  Visit them at mypages.valdosta.edu/dlscott/Scott.html.  View past columns at www.facebook.com/DavidKayScott. The Scotts live in Valdosta, Georgia.